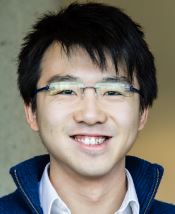 Desmond Cheng
Making a switch from working in the finance industry to studying theology is not an easy one. Yet for Desmond Cheng, the switch has been deeply worthwhile.
"Growing up in Hong Kong, I was constantly told by family and peers that the only way to be a successful person was to make good money or get a prestigious job. So I didn't give much thought to what I wanted to do, but pursued what people told me. I worked in the finance industry because my background was in mathematics and economics. But in the first year that I started working, I noticed that although the salary and benefits were very luxurious, they didn't satisfy. I was really troubled that investment management was not something I was called to do. I was passionless about the work. So I started discerning my vocation instead of living other people's lives."
While living in Seattle, Desmond was actively involved with his church. "Throughout those few years I found I had such a joy and passion for the people around me and enjoyed teaching the Word. So I started to ask God if he really wanted me to be equipped for full or part-time ministry. Regardless of what capacity I would serve in, I had a strong urge to know more about God so I could teach his Word better."
Desmond participated in Experience Regent Day in January 2013 and immediately fell in love with the College. In the Fall of 2014, he enrolled as a full-time student and moved to Vancouver.
"The transition from science to theology was academically tough. But I felt like I was constantly inspired by the lectures, professors, and readings. At the end of the day, I felt like the fact that I know God more has made my joy more complete. So the academic challenge has been difficult, but life-giving."
"I really enjoy the fact that we have Tuesday chapels and soup times because that's when I really feel a sense of belonging to this place and community. People really help each other grow in Christ. I definitely think my time at Regent is one of the most blessed things that God has given me. It's such a valuable experience; it's a luxury to have the resources to study theology and know God and have fellowship with students and faculty from all over the world. It's really worthwhile and life-changing."
Desmond is still discerning God's call for the future. He is hoping to make sense of how God might be using his other gifts and previous experiences to serve the church someday. In the meantime, he is doing all he can to prepare for whatever that vocation might be.